HUMPTY DUMPTY BREWERY 1998 – 2018
CELEBRATING 20 YEARS OF CRACKING REAL ALES
IN THE NORFOLK BROADS….
2018 marks 20 years of brewing for Reedham based Humpty Dumpty Brewery. The brewery was established in the stables at the back of the Railway Tavern in Reedham, and has grown to become one of Norfolk's most well established award winning micro-breweries, supplying a wide range of cask and bottled ales to pubs and other outlets across East Anglia. Owners Lesley & Stephen George have a team of 10 who work out of the brewery, office & shop premises on Church Road.
The celebrations started early in the new year with a new beer: BRANCH LINE BITTER – a 3.9% abv light chestnut bitter, brewed with a complex mix of malts for a rich body and English hops for a spicy and fruity aroma. The first brew sold out in just a few days and is being very well received across the region.
BRANCH LINE BITTER is the 4th in the line-up of permanent ales being offered by Humpty Dumpty. The 20th anniversary also marks the re-introduction of some "vintage" style pumpclips for these flagship ales, bringing some of the old images back. Other seasonal, special and anniversary ales will be available alongside the 4 permanent ales throughout the year.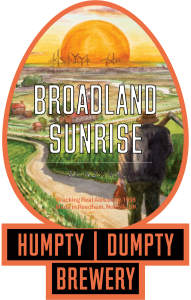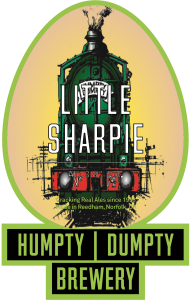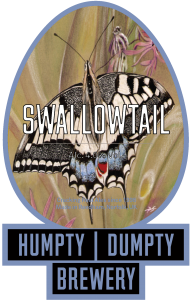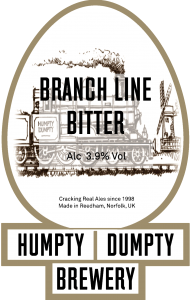 …. AND THE NORFOLK BROADS ARE BREWING!
To celebrate the remarkable number of women involved in brewing and the beer industry, Lesley is teaming up with some guest female brewing friends to create some interesting new beers for the 2018 celebrations. The new Norfolk Broads Brewing* range will showcase beers designed and brewed by female beer ambassadors from across the county – brewers, publicans, experts and enthusiasts. She said, "Talking with some of them, we felt that this was a good opportunity to further profile the role of all women in beer and brewing, and the "Norfolk Broads Brewing"* parent name lends itself perfectly to the project!"
Cheryl Cade, Director of the Thirst Consultants, helped design and brew the first collaboration beer. Maid in Norfolk is a 4.5% pale white wheat beer with orange, coriander, ginger and spicy undertones and will initially feature in a special Beer & Food (Fine Dining Experience) on Sunday 18 February as part of the launch of the 2018 Great British Beer Festival Winter (GBBFW) in Norwich (20-24 February 2018). It will then be available at the Festival and beyond, in cask and bottle.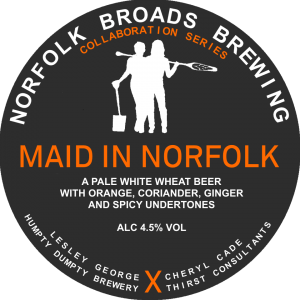 The next Norfolk Broads Brewing beer is already being planned and will be a charity beer especially designed for the Norwich City of Ale Festival (24 May–3 June 2018) – more information soon!
for more information contact us HERE