On Tuesday 12th January 2016 representatives from the brewery met with representatives from our local First Responders and Reedham Parish Council.
This was  two-fold event, with the unveiling of the new Defibrillator and cabinet at the village hall – funded by Grants from the Parish Council, the First Responders and the Village Hall Association and the presentation of the Humpty Dumpty cheque to the First Responders from our fund raising in 2015.
In total the brewery presented £1350, of which £1200 was raised at our open weekend in December and the other £150 was given by our local CAMRA (Norwich and Norfolk) on holding their branch meeting at the brewery in September.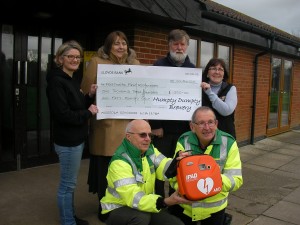 Back (left to Right)
Lesley George (Brewery) Margaret Ditcham (First Responders) David Hale (Parish Council, Chairman) Mary Anne Fermoy (Brewery)
Front Kneeling (Left to Right)
David Breeze (First Responders, Parish Council) Roger Ditcham (First Responder)