Dates / Times
Friday 20th July – 1200hrs to 2300hrs
Saturday 21st July – 1200hrs to 2300Hrs
Sunday 22nd July – 1200hrs to 1800hrs
Location
Reedham Village hall and playing fields
NR13 3HL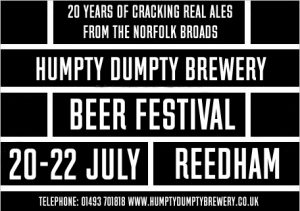 Welcome…
to the 11th annual Humpty Dumpty Reedham Beer Festival! We have gathered a record 75+ real ales and ciders from across East Anglia and beyond to celebrate the summer here in Reedham, Humpty Dumpty Brewery's beautiful Broadland home. Beers and ciders are listed alphabetically by brewery, we expect to have 20+ beers available at any given time for most of the festival, although we cannot guarantee to have every beer on at any particular time and we can't promise we'll tap all the beers on this list – the more we sell, the more we will tap but make sure you have your second and third choice in mind. We are hoping to save plenty of guest ales for the final Sunday session, but failing that, there will certainly be plenty of Humpty Dumpty beers available! #humptysunday
Glass Hire & Cash Cards
If you wish to hire a pint glass from us for the festival, we ask for a £2.50 deposit, refundable upon the return of the glass in good condition. Plastic cups will also be available (behind the bars). This year, we are running a "cash card" system for all purchases. £5 & £10 cards can be bought from the Cashier only. The un-used value of any card can be redeemed with the Cashier too, or donated to our 2018 chosen charity – Freethorpe & Community First Responders (boxes on the bar & with the Cashier).
Hot Food & Snacks
Chef Roy is back! BBQ hot food, including Roys super successful vegetarian halloumi wrap, will be available between 1 & 9pm (5pm Sunday). Samphire's rare breed pork pies and sausage rolls, filled rolls & other snacks will also be available on the bars.
Music
Yet again this year we have a great line up off live music, something (hopefully) for everyone to enjoy.
Please note, this is the planned line-up BUT could change for reasons outside of our control…
The Beer
It's a long list so for those who can't wait for the festival here is the programme with all the details 🙂
Please remember, as stated in the introduction, that not all the beers will be available at anyone time though we expect to have approximately 20 different ones available at any one time throughout the weekend